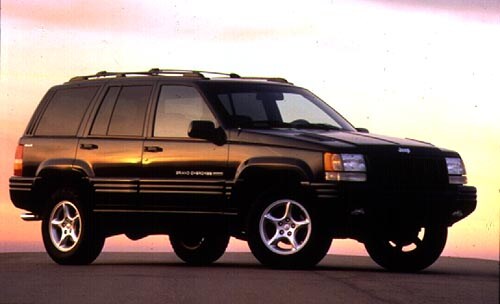 Garden City Jeep Chrysler Dodge is hosting a huge blowout sale for their classy abundance of used Jeep Grand Cherokee model/years. Explore large inventory, superb customer service, and low financing rates for all our used Jeep Grand Cherokee line-up.
New Jeep Inventory
Used Jeep Inventory
If there were a #1 award to hand in the SUV class, the title would unquestionably go to all model/years of the legendary Jeep Grand Cherokee SUV. Over twenty years now this legendary off-road stylish 4x4 has satisfied many drivers and owners alike. Purchasing a used Jeep Grand Cherokee when you have never had one, or driven one at that matter, is nothing short from an incredible driving experience. The Jeep Grand Cherokee holds a strong reputation for being the most elite and elegant SUV off-road vehicles manufactured! The 2010 Jeep Grand Cherokee unleashed started with three various engines that include the base V6 pushing 210HP, 3.7-liter V6 pushing 357HP and top of the line V8 HEMI 5.7-liter. Then there is the big-boy of all engines, the HEMI V8 that has a huge 6.1-liter engine, which sends this Jeep Grand Cherokee soaring at exceeding force of 410HP! That is extremely quick for any vehicle of this capacity! No matter what engine size Garden City Jeep customers find appealing, there is options of 5-speed automatic or a 5-speed multi speed automatic transy equipped with overdrive. The line-up of our used Jeep Grand Cherokee model/years is all the definition of what best describes the term "SUV".

Optional features for specific models years may already be equipped when new owners get behind the wheel of a used Grand Cherokee, such as the safety feature of rear-view parking camera, sensor windshield wipers, hill-assist and more. One or more of these optional model/year features may come at no cost, as the previous owner has already set up the perfect Jeep Grand Cherokee Package for you. Contact Garden City Jeep Chrysler Dodge Ram, either onsite or online, and discover the wonderful world of our used Grand Cherokee Long Island NY drivers will rate as their #1 auto stop.